Posts by Jonathan Pfeffer
About the Author
Aug 13, 2019 by
Jonathan Pfeffer
There's no getting around the fact that car culture is the primary means by which Americans get around. While it is highly unlikely that this culture will disappear altogether, many factors including electric and hybrid vehicles, rideshare programs like Uber and Lyft, improved mass transit, and far-flung projects like Elon Musk's Hyperloop, suggest transportation will change dramatically in the not-too-distant future.
MBAs would do well to take note of the many opportunities embedded in the transportation industry.
Corporate Development and Global M&A – Analyst — General Motors
General Motors is the largest automotive manufacturer in the United States. Traditionally known as one of the Big Three car companies—the other two are Ford and Fiat Chrysler—General Motors' best-known brands in the United States are Chevrolet, Buick, GMC, and Cadillac.
General Motors is hiring a Corporate Development and Global M&A – Analyst to work at either its headquarters in Detroit, Michigan, or its offices in Bupyeong, Korea. The person hired for this position will join the company's Corporate Development and Global M&A team, which is tasked with developing methods to deliver on corporate strategy. Some of the team's areas of focus are alliance management, new business development, and corporate and regional strategic initiatives. This job requires at least three years of prior relevant experience, and an MBA is preferred.
Key responsibilities include:
Leading business case development for deals
Supporting transaction execution
Managing post-transaction partner relationships
To learn more about this and other jobs, please visit the General Motors career page.
Associate Director — BP
BP is a global energy firm that employs 75,000 people across 80 countries. The company covers all aspects of the energy market, from drilling and refining to trading and renewable energy.
BP is hiring an Associate Director who will work from its office in Houston, Texas. The person hired in this position will be working as part of a team that provides bespoke energy risk management services and solutions to clients. The hiree will serve oil and gas producers, refiners, and airlines, among other corporate and financial parties. This job requires at least five years of relevant prior experience, and an MBA is preferred.
Key responsibilities include:
Identifying possible transactions
Delivering gross margin targets and business returns
Managing various financial relationships
Visit the BP website to learn more about this positions and other employment opportunities.
Sr. Inventory Control Analyst — Tesla
Based in Fremont, California, Tesla is a major leader in the transition to sustainable energy. Although it is best known for its cars, the company also produces a variety of energy storage and generation units, including the Powerwall, Powerpack, and Solar Roof.
Tesla is hiring for a Sr. Inventory Control Analyst who will be based in its Fremont headquarters. The person hired to this position will be responsible for keeping an eye on the company's inventory, ensuring its accuracy and maintaining an appropriate balance. The best candidates for this position will have at least five years of previous relevant experience. The company prefers candidates who possess an MBA.
Key responsibilities include:
Monitoring inventory accuracy to enable reviews by senior management
Reviewing inventory reconciliations
Supporting the implementation of policies that ensure accurate inventory tracking
Visit the Tesla website to learn about this position and others.
Global Revenue Management Center of Excellence Advisor — ExxonMobil
ExxonMobil is a major player in the global petrochemical industry. The company plays a role in all aspects of the energy chain, from mining and refining to marketing and retail through its brands (Exxon, Mobil, Esso).
ExxonMobil is hiring a Global Revenue Management Center of Excellent Advisor who will work out of the company's office in the Houston suburb of Spring, Texas. The person hired to this position will be responsible for many things, including ensuring the delivery of effective revenue management processes and frameworks for the lubricants value chain. This job requires prior relevant experience, and an MBA is preferred.
Key responsibilities include:
Contributing to revenue management objectives and strategies
Analyzing market influences to develop optimal decision-making and business improvement recommendations
Establishing an analytics work plan
More information about this job and others can be found at the ExxonMobil website.
Aug 12, 2019 by
Jonathan Pfeffer
Founded in 2013, NYC-based Bowery Capital is an early-stage venture capital investor that primarily backs SaaS (software-as-a-service) B2B (business-to-business) startups that develop innovative software that allows companies to optimize the role of a continually changing technological landscape.
Bowery Capital is a relatively small firm with less than 50 employees and it has three groups of four individuals at the center of its operations. These groups are the Core Team, the Venture Partners, and the Revenue Council.
Bowery Capital doesn't just invest in companies—it also provides them the right tools to succeed. It helps these companies build a customer base, provides them with a "robust software infrastructure" to enable growth, and offers crucial support in finding the right talent.  This support coupled with the expertise of a combined 50 years of collective experience is what makes Bowery Capital stand out to young companies on the hunt for potential investors.
Landing a Bowery Capital Career
Considering the kinds of startups in which Bowery Capital specializes, any experience that a job applicant might have in software, digital marketing, digital media, online advertising, product management, or social media would give said applicant an edge in the hiring process. Another valuable asset is a keen sense for possible areas of growth within the tech industry.
It should be noted that at the time this article was written, there are no job openings at Bowery Capital. While the company does offer internships for MBA and undergraduate students, there appear to be no openings for those positions.
Working at Bowery Capital
Since the firm is relatively young and small, it is difficult to say much about Bowery Capital's workplace culture. Its website lists a 12-member team and Glassdoor reviews from former employees suggest that Bowery Capital has a regular stream of interns working there on a part-time, short-term basis.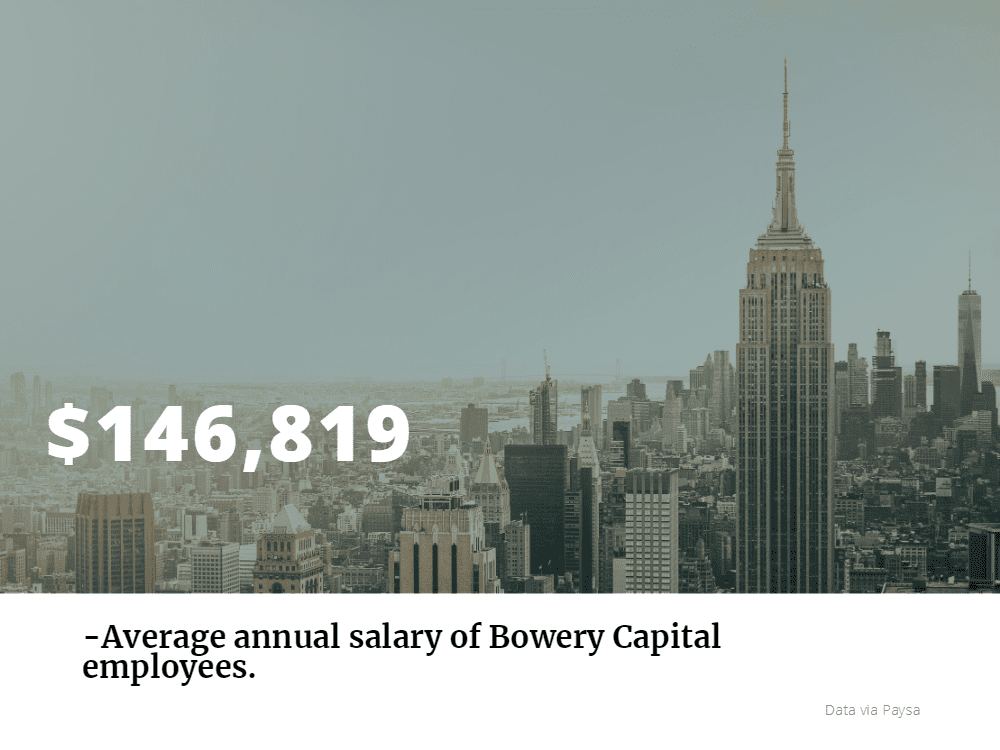 According to Paysa, Bowery Capital employees make an average annual salary of $146,819, with $97,852 marking the 25th percentile and $179,767 at the 75th percentile.  However, this data does not indicate the average salaries by position, so it is unclear how much an employee who recently graduated with an MBA would make.
Life at Bowery Capital
Bowery Capital has not published any employee demographics or statements about their workplace culture, but all reviews from former employees on Glassdoor are overwhelmingly positive. In particular, they are nearly unanimous in their praise for a positive atmosphere and the expertise of their supervisors. The only con was from a former summer intern who mentioned that they had not been paid for their work at the firm.
Paysa also offers some helpful statistics on workplace demographics. Fifty-six percent of Bowery Capital's employees are white, while the rest declined to offer this information. About 89 percent are male with the remaining 11 percent declining to disclose their gender. However, of the 12 team members listed on the company's website, 5 are women. Additionally, the Paysa information is based on fewer than 20 users, so both of these data sets are in all likelihood only a small portion of Bowery Capital's workforce.
Bowery Capital only has one office in New York City, but they invest in companies all over the country, especially on the West Coast, which as you may have heard has a thriving community of technological innovators.
While half of the Bowery Capital team is based in New York City, four are based in San Francisco and two are based in Boston. With this in mind, it seems likely that a Bowery Capital career would likely be based in New York City with potential opportunities for travel.
Aug 6, 2019 by
Jonathan Pfeffer
As every aspect of our lives increasingly becomes tangled in the tech's tendrils, we have seen many opportunities for professionals from a wide swath of backgrounds accompany the rapacious growth of the industry.
MBAs, long ago personas non-grata in Silicon Valley, are now in high demand at iconic brands like Apple (CEO Tim Cook is a Duke Fuqua alum), Facebook (COO Sheryl Sandberg graduated with a Harvard MBA in 1995), and Microsoft (CEO Satya Nadella is a Chicago Booth alum).
This week's new openings are largely found in California, with a litany of Bay Area Tech jobs ideal for MBA graduates who want to work in an environment where they can "move fast and break things," to quote Mark Zuckerberg.
Jul 30, 2019 by
Jonathan Pfeffer
The Windy City is a major financial hub, serving as the home to several major corporations and multiple exchanges. However, Chicago can feel like an afterthought in the realm of finance, with New York and San Francisco taking up so much space in the current conversation.
In an effort to draw some attention to the many opportunities the Second City has to offer, this week's jobs are all located in Chicago.
Jul 25, 2019 by
Jonathan Pfeffer
MBA graduates in marketing can experience exponential career growth. According to Payscale, graduates in marketing often earn a starting salary of $55,700, which may double to $116,000 by mid-career. As the job is links to sales success, bonuses can also be lucrative.
Those who relish the thrill to sell might be curious about what positions can maximize their salaries. The benefits of these positions can vary by location, experience, and company.
Jul 23, 2019 by
Jonathan Pfeffer
It's not enough to make money—you have to figure out how to make that money grow. Growth is the name of the game for everyone from the salaried folks counting the days until retirement to multinational corporations mulling over their bottom lines.