Posts by Kelly Vo
About the Author
Aug 9, 2019 by
Kelly Vo
Current MBA students are one of the best resources for learning what it takes to get accepted into your target business school.  They are recent applicants themselves and, therefore, know what it takes to stand out in the process.
At UVA Darden, rising Second Year students shared a blog filled with MBA application advice for full-time MBA applicants. Here's what they had to say.
Apply Early
According to Allie Medack, the last thing you should do is wait until the last minute to start the application process. She found business school applications to be highly introspective, and so felt that she needed time to reflect on her experiences and who she was as a multi-dimensional person. "Your genuine excitement will catch the Admissions Committee's attention and help you shine through the pack."
Reflect on Your Story
"Let [your story] shine and recognize that it's all new to anyone who doesn't know you," says Max Linden. He believes that every applicant already has many defining moments that to use to demonstrate character, so take advantage of that.
For Christina Wong-Namura that meant not being afraid to dig deep. "For me, I made sure that my highest and lowest points were transparent on my application—and I tried to make my personality shine through despite the word limit."
Link Yourself to the Program
The question of "Why this school" and "Why me" are intertwined. You can't explain one without the other, according to Bingjing "Krystal" Yao. You have to talk about your future career in terms of how this particular MBA program will help you. Look at your passions and contributions in terms of how they'll impact the business school community.
Ask for Help
You don't have to go through the application process by yourself. Jordan Hart advises to ask for help, get diverse perspectives, and talk to anyone you can. "There are many people who would be happy to help you as you take this exciting next step in your life—let them," he says.
At the same time, you still need to make sure that you are self-aware and honest with yourself. While advice is good, be true to who you are and follow your own instincts.
Frame Your Narrative
A well-framed narrative is critical to differentiating yourself from every other applicant. That means it's vital to showcase your unique experiences based on your early life, education, and career. "Consider of how these experiences play a role in your resolve to apply for an MBA program and to then transition to a successful business role after graduation," explains Clement Le Royer.
More MBA Application Advice from Students
Five more UVA Darden MBA students offered advice in the original blog. Here's just a quick overview.
Connect with friends and family during your application process, says Chloe Stegeman.
Craft a personal positioning or brand statement, advises Pierce Lee.
Don't obsess over online forums. Instead, focus on running your own race, recommends Temi Adekanbi.
Take time to step away from your essays after you write them to gauge the clarity of your response, says Teresa "Tess" Engebretson.
Choose an MBA program where you are celebrated, not just tolerated, says AJ Amankwaa.
---
This article has been edited and republished with permissions from its original source, Clear Admit.
Aug 6, 2019 by
Kelly Vo
NYU Stern got a jump start on introducing its full-time MBA Class of 2021.
Of the 3,518 applicants hoping to join the NYU Stern Class of 2021, only 919 were admitted and 359 enrolled, for a 26 percent admission rate. Those students are, on average, 28 years old and have 5.2 years of professional experience. A few of them were also fresh graduates, with 3 percent having no work experience.
Dramatic Jumps in Academic Performance
One of the major highlights from the NYU MBA Class of 2021 is the improved academic performance of the candidates.
The average GMAT score rose 5 points, from 716 to 721
Average GPAs increased from 3.45 to 3.52
There was also quite a difference regarding undergraduate majors. While a quarter of the Class of 2020 majored in business, that percentage increased to 30 for the new group.  Meanwhile, the choice of engineering, math, or science as a major matched last year's candidates at 22 percent. The third most popular major for the Class of 2021 was social sciences (19 percent) followed by economics (15 percent). This is a reverse of last year when a fifth of the class were economics majors.
Women on the Rise, Veterans Hold Steady
The NYU MBA Class of 2021 is expected to arrive on campus with more women than last year—female enrollment rose from 35 percent to 36 percent. However, international diversity decreased slightly. Only 33 percent of the Class of 2021 maintains international citizenship in 37 different countries, compared to 39 percent last year.
There was also a slight decrease in the number of minorities represented in the student body. In the Class of 2021, around a quarter of students (24 percent) identify as minorities, 9 percent of whom are underrepresented minorities. That's down from 29 percent and 13 percent from last year. However, 7 percent of students are still U.S. Military veterans or on active duty, which is owed in part to the Fertitta Veterans Program.
Work Experience and Industry Background
Students entering the NYU MBA Class of 2021 come from a wide range of industries and backgrounds, the most popular being financial services (28 percent). After that, prior industries are widely mixed with no other industry breaching 12 percent of the class. They include:
Consulting, 11 percent
Technology, 9 percent
Consumer, Products, Retail, 7 percent
Nonprofit, Arts, Education, 7 percent
To see the full profile as of July 31, 2019, visit the Stern full-time MBA admissions website.
---
This article has been edited and republished with permissions from its original source, Clear Admit.
Aug 5, 2019 by
Kelly Vo
The American Midwest is one of the friendliest and most beautiful locations in the country. For those looking for an area that offers a balance between heavy industry and agriculture, alongside finance, education, and medicine, the Midwest is where to be. It's also home to excellent public and private universities, including many of the world's top MBA programs.
But with so many amazing business schools in the Midwest, where should you earn your MBA? To help you out, our "Pick Your City" series is comparing Chicago, IL and Minneapolis, MN.
We're giving you insight into the cost of living of each city, the job opportunities, the MBA programs, the culture, and more. Continue reading…
Jul 31, 2019 by
Kelly Vo
If you're looking to live on the east coast, you have your pick of cities. You could choose to live in the Northeast in New York City or down in the south in Savannah, GA. But what if you're looking for a location in between those two? For that, you have Charlotte, North Carolina and Washington DC.
Both Charlotte and Washington DC are great places to live. To help you "pick your city," our latest series breaks down two similar locations to help you make the best decision for you when it comes to cost of living, culture, job opportunities, and MBA programs. Continue reading…
Jul 29, 2019 by
Kelly Vo
Insurance is a fast-growing career field. In the next 12 months, 63 percent of insurance companies plan to increase their staff numbers, according to a recent industry trend report.
In fact, by 2020, almost 400,000 insurance jobs are projected to be available. When combining that with the fact that millennials aren't very interested in working in insurance—only a third demonstrate any interest—it's a great career field to consider.
There's a wide range of jobs, across a broad spectrum of career paths, within the insurance industry, and compensation is higher than average. Entry-level professionals can expect to earn more than $50,000 a year, and that number only increases as you gain experience.
In this article, we're breaking down the highest paid insurance jobs, the companies where you'll earn the most money, the top MBA programs, and where you should live. Continue reading…
Jul 26, 2019 by
Kelly Vo
Registration is open for the 2019 Forté MBA Forums.  Designed for women considering an MBA, the Forums provide an ideal opportunity to learn more about the value of an MBA from admissions reps, alumnae, and current students at top business schools. Open to all women—career changers, college students planning the future, or career professionals looking to go to the next level—the events provide a distinct MBA advantage.
About the Forté MBA Forums
The MBA Forums are FREE and held in 11 cities across the U.S. and Europe. The events are a chance for women to build their peer support network and meet other successful businesswomen from a diverse range of industries. The MBA Forums offers exclusive insights into the MBA admissions process.
"The Forté Forum event provided the exact insights we were looking for," said Madeline Keulen, Forté MBA Forum attendee and 2019 HBS alum. "Most of the schools I was interested in had representatives at the event who could speak to the specifics of their programs, and panels of alumni enhanced the richness of the experience through their personal stories of why they chose to pursue an MBA. I have a much better sense of where I'd fit best."
2019 Event Dates and Locations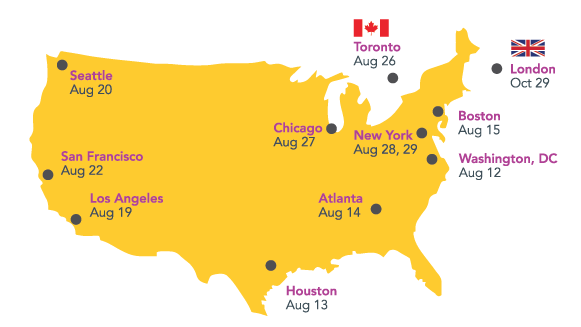 August 12, Washington, D.C.
August 13, Houston, TX
August 14,  Atlanta, GA
August 15,  Boston, MA
August 19,  Los Angeles, CA
August 20, Seattle, WA
August 22, San Francisco, CA
August 26, Toronto, Canada
August 27, Chicago, IL
August 28, New York City, NY
October 29, London, England
Sample Event Format
6–8:15 p.m. – Registration and School Fair
Connect with admissions at top business schools
Learn more about the admissions process
Find the right school for you
Networking reception
7–8 p.m. – MBA Alumnae Panel
Get advice and hear stories from top MBA women in a range of industries and at various career stages. Learn what motivated them to earn their MBA and the successes and challenges they've faced.
8:15–9 p.m. – Admissions Panel
Enjoy a panel of seasoned MBA admissions professionals from top programs. Learn more about admissions requirements, researching schools, applications, and financing.
Visit the site to see more details about locations and to register!