Posts by Metro MBA
About the Author
Jul 23, 2019 by
Metro MBA
Business schools are regularly updating their program options. You might not even realize it, but MBA programs are being added, removed, and modified to make way for the new and to get rid of the old.
Moving forward, we at MetroMBA will help you keep track of the latest MBA happenings around the U.S., so you know what's going on in 2019. We'll update this document continually as we learn the latest news and share it with you.
So, keep checking back to see what's going on in the 2019 MBA world.
---
Boston University to Introduce Online MBA in 2020
In partnership with edX, an online education platform, the Questrom School of Business at Boston University will formally introduce its own Online MBA program in fall 2020. It will be the first official Online MBA offered by edX, which is currently offering 10 specialized master's programs.
Applications will officially open on August 16, 2019, with annual tuition currently set at $24,000. The price difference is stark in contrast with the school's full-time MBA, currently set at $55,480 per year.
"We've recognized the transformative potential of edX for some time," says President Robert A. Brown. "With the online MBA, we're seizing the initiative to offer a major degree for which we believe there is global demand. Higher education must evolve in a fast-changing world. We aim to lead in this evolution."
Learn more about the new BU Online MBA here.
---
Gies Removes Full and Part-Time MBA Programs on Campus
The University of Illinois Gies College of Business recently announced that its full and part-time MBA programs will no longer be taught on campus. The top-50 ranked MBA program, according to U.S. News & World Report, is one of the largest (and most lauded) programs to shut down in recent years, with reported efforts to increase funding for its popular iMBA online program.
Just three years after the iMBA program was introduced, enrollment ballooned from 114 to 1,955 students, making the transition all the more financially feasible for the university. Students currently enrolled in the full and part-time MBA programs will be able to finish their degree on campus, but the school will be discontinuing after the graduation of the current class.
---
Michigan Ross Introduces New Online MBA
At the end of 2018, The University of Michigan Ross School of Business introduced a new Online MBA program, offering maximum flexibility with the same curriculum offered to full-time MBA students. The program includes live class sessions (live online events for case discussions, group work, and presentations), self-guided study (short, instructional videos identifying and explaining key concepts), and leadership development training available on the Ross campus (three on-campus residencies).
This new format requires students to complete 57 credit hours:
27 credits of core work
18 credits of electives
Nine credits consisting of three in-person residencies
Three credits for an action-based learning project (MAP)
The curriculum is self-paced but designed to be completed in three years.
To learn more about this new program offering, head to the Michigan Ross Online MBA site here. Also, check out our recent '5 Questions' installment with Ross' Associate Admissions Director of Part-Time MBA Programs, Anne Schoen.
---
Henley Business School Cancels Full-Time MBA
For the 2019-20 academic year, the Henley Business School canceled its full-time MBA program, diverting applications to other masters degree programs. The Henley website described the move as a "pause," but it's the first time a big UK business school has stopped taking applications for its flagship business school program.
The move isn't that much of a surprise. Last year, Henley only brought in 26 MBA students down from 40 students the previous year. In contrast, demand for Henley's part-time executive MBA courses rose 37 percent this academic year with about 700 students enrolled.
For more insight into Henley's decision head on over to the Financial Times article.
---
SDA Bocconi and Toronto Rotman Launch new Global Executive MBA
Italy's SDA Bocconi partnered with the Toronto Rotman School of Management at the end of last year to launch a new Global Executive MBA program. This dual-degree EMBA program is 18 months in length with modules delivered across seven cities around the world. Students will attend courses in:
Milan
Toronto
Mumbai
San Francisco
Copenhagen
Shanghai
Sao Paolo
Graduates will receive both an MBA from the Rotman School of Management and a Global Executive MBA from SDA Bocconi.
The curriculum, which includes 24 courses plus electives, takes 18 months to complete, 75 learning days, and 63 out-of-office days. Classes begin October 4, 2019, in Toronto. To learn more about the new GEMBA head on over to the website here.
---
Mexico's EGADE Business School Launches Online MBA
In the fall of 2019, Mexico's EGADE Business School—in partnership with 2U—will launch its new Online MBA program. Classes will be taught in English live every week through an online platform. Then, students will have the option to attend in-person immersion experiences at EGADE locations throughout the Americas. This is 2U's first full-degree program in Latin America.
To learn more about the new Online MBA program, you can read the press release here.
---
Louisiana State University Announces One-Year MBA Program
Early in 2019, Louisiana State University's Ourso College of Business announces the launch of its new One-Year MBA program. The program is aimed at undergraduate business students who want to continue their education after graduation. While no work experience is required to apply, the school states a preference for two years of experience and an essential understanding of business concepts.
The One-Year MBA program will begin in June 2019 with a pre-MBA session to set the foundation. After that, students complete 36 credit hours in a cohort-based setting to graduate. Each semester has two, eight-week modules and up to three courses at a time.
To learn more about this degree that can be completed in as little as 11 months, head over to the program page here.
---
University of Iowa Tippie College of Business Ends Full-Time MBA Program
The incoming class of 2019 will be the last full-time MBA cohort for the University of Iowa Tippie College of Business. The decision to end the full-time MBA was made to allow the school to focus on its Professional MBA, Executive MBA, and portfolio of specialized master's programs. The closing is thanks to shifts in demand with 91 percent of all MBA enrollment going to the Professional and Executive MBA programs.
"Adapting to the market is key for growth in any organization, and we're seeing clear shifts in what students and businesses need," said Sarah Gardial, dean of the Tippie College of Business. "Both are expressing preferences for non-career-disrupting options for the MBA, while others are increasingly drawn to the focused education provided by master's programs in specific subjects."
Along with the closing of the full-time MBA, Tippie announced a new master's program in finance. To learn more about these changes, read the press release here
Apr 18, 2019 by
Metro MBA
The GMAT loves to present combination questions that force people to sit next to each other, or in certain seats, and then have the test taker figure out how many different ways people not forced to be glued to possibly a very uncomfortable chair can be seated around them. Because free will, clearly, is not an option for many movie-goers, committee members, and/or people seated in a kumbaya circle.
Take this question, for example:
A group of five students bought movie tickets in one row next to each other. If Bob and Lisa are in this group, what is the probability that Bob and Lisa will each sit next to only one of the four other students from the group?
5 percent
10 percent
15 percent
20 percent
25 percent
See where we are going with this post?
Many test takers will immediately jump to a combination, or potentially a permutation formula (you know, because the order matters), and find themselves completely stuck on what inputs to use. Is it five? Or three? because Bob and Lisa don't like middle seats?
The reality is that using the slot method–sketching out the seated relationship between these five people–will make it very apparent a). how much easier this problem is to tackle and b). help direct test takers more quickly to the right method of calculation rather than being mired down in trying to figure out if n!/(n-k!) works and what numbers should be used for n and k.
For this question with Bob and Lisa, and similar types of questions, try sketching out as follows:
Bob _____ _____ _____ Lisa
OR
Lisa _____ _____ _____ Bob
It looks like that there are only two different ways that Bob and Lisa can be seated, so then the focus becomes how the remaining three students can be seated. This is accomplished with a very simple factorial–3!–representing the different combinations of the remaining three students.
Alternatively, while a little more time-consuming, considering the combinations of those three movie-goers (who we can name Amy, Belinda, and Carl) is another route that helps us get to the right answer.
ABC
BCA
CAB
BAC
ACB
ACB
Producing six unique combinations. Multiple those six by two–the different seats that Bob and Lisa can be in–and we have 12 different arrangements of student movie-goers. So, 3! = 6 x 2 = 12.
But the issue is that the answer choices are all percentages. By re-evaluating the question, the test taker is being asking to figure out what the probability of this combination will turn out to be. This can be calculated by:
Number of total outcomes where Bob and Lisa only sit next to one person
Total number of possible outcomes
With five students, 5! = 120 is the total number of combinations without restrictions. Placing 12/120 = 10 percent making our answer (B)
When thinking about these types of questions–combinations with restrictions–consider the slot method. Your path to the right answer may be simpler than you think!
---
This article has been edited and republished with permissions from its original source, Clear Admit.
Dec 27, 2018 by
Metro MBA
Sponsored Content
In our latest installment of the MetroMBA "5 Questions" series, we speak with Jay Bryant, Director of Graduate Recruitment & Admissions at the UC San Diego Rady School of Management. Bryant discusses the exceptional entrepreneurship culture at Rady and San Diego at large, plus what students hoping to join the UC San Diego MBA program should expect.
---
1. If you had to describe how Rady fosters entrepreneurship to someone who never heard of the school, what would you tell them?
"Rady is a school that was founded on the concept of innovation. It is our foundation—our very DNA! Innovation is the mother of entrepreneurship as I see it. All of our students come in with the passion of bringing new value to the world while the faculty, staff, and administration all foster an environment where the entrepreneurial spirit of our students can grow and practice their entrepreneurial interests in the safe and supportive environment of our school. As I see it, the top five ways in which the Rady School provides a perfect match for those wanting to pursue an entrepreneurially focused education are:
Every class in our curriculum is designed for a student body driven by innovation and entrepreneurship.
All of our students come into our program with a desire to be entrepreneurs or managers in the innovation economy.  Therefore, students are always surrounded by collaborative and like-minded individuals that create the unique Ready School environment.
The Lab to Market program—a three-course, capstone experience—gives students the opportunity to take an idea in any industry all the way from the mind of the student to ready to launch. Many of our students do actually launch their projects after graduation.
The Rady School's California Institute for Innovation and Development (CIID) allows for students to take part in a number of its initiatives designed to accelerate and promote innovation.
The local San Diego community knows of the Rady School's connection to innovation and entrepreneurship and therefore regularly works closely with us on capstone projects, internships, and career opportunities."
2. Is there any particular kind of company or idea that tends to flourish in the program?
"Our students are trained to be part of the innovation driven economy, therefore, the companies that work most closely with us are those that have to reinvent themselves every year to stay relevant. The two largest sectors hiring our students are technology and bio-technology. In both of these sectors they seek managers who are excited to take on the new initiatives and new markets."
3. Is there something about San Diego specifically that tends to bring out the best in entrepreneurs?
"San Diego is consistently ranked among the best cities for startup companies. It is part of the spirit of California in general. Ever since the gold rush, California has been a state focused on the future and the new frontiers. Everywhere you look you find innovations that are coming from California—we literally create the future here in California. Innovation is not just an interest of the Rady School, rather it is in the spirit of the entirety of UC San Diego."
4. What should hopeful students know about the program that they may not necessarily know until they start?
"I think what surprises students the most is entering into a community where everyone greatly values innovation. Through the admissions process we are searching for the individuals who will really fit the personality and passion of what we do. It is not until the first day of orientation do these selected individuals all wind up in the same place at the same time. Being surrounded by like-minded individuals only makes this passion grow over the course of their study."
5. Is there any kind of student you want to see more of in the program?
"We believe that innovation comes from every industry. We are an appropriate program for individuals wanting to work at large organizations like Google or Tesla, but we are also appropriate for those wanting to start smaller ventures of their own. We want a well-rounded cohort of students that brings in the best from every industry, level of government, developmental or non-profit organizations, and any other entities where innovation drives their future success."
---
Oct 29, 2018 by
Metro MBA
Sponsored Content
Lehigh moved into Poets&Quants' top 5 online MBA programs in 2019. Up one spot from 2018, Lehigh ranks No. 5 out of 35 programs in the country.
In the news website Poets&Quants' second annual ranking of online MBA programs, other graduate schools and recent graduates from the past two years were surveyed. Rankings are based on three key aspects: the quality of the incoming student, an assessment by graduates of their MBA experience, both the academic and the extracurricular activities, and the career outcomes of the programs' graduates.
Graduates surveyed answered questions regarding consulting projects and international immersions and whether their career goals were met for entering the program.
The Lehigh FLEX MBA Program provides the flexibility to fit professional and personal needs in an academically rigorous environment, with an unparalleled peer group. Students can attend classes in person or live online, or bridge both modes.
For the Spring 2019 entering class, apply by Dec. 1 for admission.
To learn more about the synchronous Lehigh FLEX MBA online program, visit https://cbe.lehigh.edu/academics/graduate/flex-mba or contact the college at business@lehigh.edu.
---
Jul 27, 2018 by
Metro MBA
Sponsored Content
The Rady School of Management is approaching its 15th anniversary and since its founding in 2003, the school has reached many remarkable milestones. Through the generous support of the business community, the school has grown exponentially—offering new graduate and undergraduate programs, expanding the ranks of its world-renowned faculty, and constructing state-of-the-art facilities where students thrive. Most impressively, the school's focus on entrepreneurship and innovation has led to numerous companies, founded by Rady School students and alumni, that are changing our world and significantly contributing to our economy. Here's a look at the top 15 accomplishments the Rady School has achieved in its first 15 years.
Over 150 operational startup companies have been started by Rady School alumni and students. These startups have revolutionized industries, led to breakthrough medical devices, drastically enhanced the lives of the visually impaired, improved personal wellness monitoring and have forever transformed our world for the better. Many of the startups are a product of the Rady School's unique Lab to Market core sequence and accelerators.
The Rady School is grown into an economic powerhouse, with alumni and student startups creating over a $6 billion dollars impact in the local, national and global economy in the last 15 years.
Founded with the intention to provide quality business education to leaders in innovative industries, the Rady School has launched distinguished graduate programs to serve the needs of the business community, including the school's flagship Full-Time MBA and FlexMBA programs, which are already recognized among the best.
In addition to the MBA programs, three specialty graduate programs have been launched: a Master of Finance, a Master of Science in Business Analytics and a Master of Professional Accountancy.
The school also has three robust undergraduate programs, a business minor, an accounting minor, and a entrepreneurship and innovation minor, all of which are among the most popular minors on the UC San Diego campus.
Rady School faculty are recognized as leaders for the quality of their research. Over the past 15 years, the school's faculty have been ranked number one in the U.S. for intellectual capital by Bloomberg Businessweek, 14

th

 globally for faculty research by the Financial Times and 12th globally in student rating of teaching quality by The Economist.
Since its inception, the school has received strong support from the business community. The school's many supporters have been generous with their time and with gifts to support the mission of the school. Notable gifts include: a $100 million gift from Ernest and Evelyn Rady to fund strategic priorities and recruit faculty; a $4 million gift and endowed chair from Nobel Laureate and Rady School professor Harry Markowitz and his wife Barbara, a $30 million naming gift from Ernest and Evelyn Rady, and a $5 million gift from Carol and William Stensrud for program development and faculty recruitment.
The Rady School has established five Centers of Excellence: the California Institute for Innovation and Development (CIID), the Beyster Institute, the Center for Business Analytics, the Center for Social Innovation and Impact, the Institute for Supply Excellence and Innovation the U.S. – Israel Center on Innovation and Economic Sustainability. Each of the school's centers focuses on a different topic of importance and provides additional learning opportunities and experience for students.
Launched in 2013, the StartR Accelerator at the Rady School is a non-profit program for Rady School students and alumni designed to provide entrepreneurs the tools needed to start and grow their businesses. The StartR program includes workshops, mentoring, advice and access to other resources for early-stage companies. At the conclusion of the program, teams present their pitches at Demo Day, attended by investors, industry experts and the San Diego community.
The Rady School's mystartupXX program is a one-of-its-kind accelerator that was created to increase and encourage diversity in entrepreneurship. Program participants take workshops on launching startups, team building, leadership, market assessment, consumer feedback, creating a value proposition, validating business models, and understanding financing strategies needed to launch the business. Each team works with a mentor and advisors who monitor and encourage their progress.
The Rady Venture Fund, a student-assisted venture capital investment fund, was established to support the Rady School's educational objectives in the areas of entrepreneurship, innovation and transfer of discoveries into the marketplace. Students screen investment leads, perform due diligence, make investment recommendations, and monitor portfolio companies. To date, the fund has invested in five early stage companies.
The Rady School's Center for Executive Development (CED) offers courses and certificates provide valuable learning experiences that meet the needs of executives and managers in the rapidly changing world of business. Popular CED courses include: leadership, team building, and interpersonal skills. Executive development faculty are industry experts, renowned researchers, engaging teachers and authors.
The Rady School's Ph.D. program began in 2009, attracting top doctoral candidates from around the globe. Rady School Ph.D. students have gone on to teach at top school across the U.S. and the globe.
Two state-of-the-art buildings have been constructed to house the Rady School and provide a modern and technology-forward learning space. Otterson Hall opened in 2007 and Wells Fargo Hall Opened in 2012. Wells Fargo Hall has been LEED Gold certified for its sustainable practices.
The Rady School earned accreditation from the Association to Advance Collegiate Schools of Business (AACSB International) in 2011. AACSB International is the premier business education accrediting body, with less than five percent of business schools worldwide achieving accreditation.
---
Jun 19, 2018 by
Metro MBA
Sponsored Content
Technology has dramatically blurred the line between the digital and offline worlds; we can do almost anything online these days, ranging from ordering groceries to exploring Africa to attending college. However, one of the points of debate across nearly all fields is how the online experience compares to the parallel offline one; this has been especially true in online degree programs: Can online degrees provide the same value as their face-to-face counterparts?
The challenge of engaging and preparing students is two-fold for online degree programs. They need to cover the same key topics and transfer the same volume of knowledge as their on-ground counterparts. However, another part of the attraction of top MBA programs is that they not only develop students' business acumen, they facilitate long-lasting connections that can lead to career opportunities and professional connections. That level of engagement presents a much bigger obstacle than catching someone's attention long enough to complete a simple e-commerce transaction.
Technology in the Online Classroom: Two Major Lessons Learned
One of the things that makes a great online MBA successful is technology. Of course, if it were just an issue of investing in the latest and greatest tech solutions, every university would have successful digital learning programs. Further complicating things is the boom in technology built to solve this problem; which solution is best for the online classroom, and which will help build skills that will carry over into students' careers.
After looking at some of the technology decisions at the University of Southern California's Online MBA program, we found two major lessons for how to be successful with the kind of engagement these programs need to facilitate.
1. Innovate With Purpose
It's easy to see the concerns over rapid technology evolution, whether you consider this 2015 New York Times article about innovation happening too quickly for businesses to keep up, or William Smith's Morley, in which he wrote that widely available news and faster travel options would destroy relaxation as we know it, in 1886.
The technology we use will always be changing, whether it's 1886 or 2186. One of the things that is hard to admit, though, is that the thinkers who said it would be impossible to keep up were right. Particularly at an organizational level, it really is impossible to stay current with every technology innovation that emerges.
The difference between success and failure—in the virtual classroom and in global business—is how they adapt new technologies to their environments.
One example of this in action comes from the University of Southern California's Online MBA program. There are countless options for encouraging deeper collaboration and facilitating connections in an online setting, including a growing list of business collaboration tools as well as universities who opt to build their own social collaboration platforms. Sometimes, though, the answer is much simpler.
One of the things that stood out from USC's Online MBA is that, in addition to the classroom sessions and videoconferencing, students chat and connect over WhatsApp. One of the biggest lessons from this experience is the fact that, sometimes, the best solution for a given problem is something students or employees are already using; it just needs to be embraced in a way that supports desired outcomes.
Why it Matters: Both businesses and universities may be reticent to allow important work and collaboration to exist outside of the platforms they control; and, there are certain instances (i.e. regulation) where allowing consumer-grade technology is a poor choice. However, embracing a student or employee-driven approach to collaboration is essential to making it work, particularly in a virtual setting. Rather than try to force students off the tool they're comfortably using, USC can focus on smarter investments in other areas that are critical to online learning, like high quality video conferencing and learning management systems.
2. Outcomes First, Technology Second
It may seem counterintuitive at first, but the best strategies for utilizing technology don't start by considering technology—they start by considering desired outcomes. If the goal is to facilitate the creation of real connections in a virtual space, using technology to enable this will need to feel natural and incorporate features that bring some of the same qualities of face-to-face interaction.
For online MBAs, there is a second and critical part to solving this challenge: Increasing students' familiarity with tools that they will need to use in their professional lives.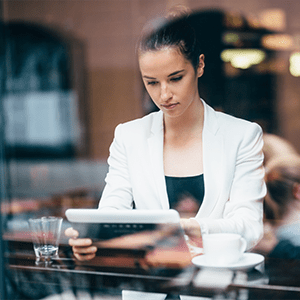 For both businesses and higher education institutions, approaching this problem primarily from a technology perspective is the wrong approach. By thinking about desired outcomes, organizations can better guide their technology choices.
For example, with software for videoconferencing, there are myriad options. From a purely technical standpoint, many schools might first consider a solution like Blackboard Collaborate or Canvas' built-in conference tools because so many already have Blackboard or Canvas for their Learning Management Systems.
These platforms may be enough from a functional standpoint, but, for developing true connections in an online MBA, user experience is an even more critical element of software used for video and teleconferencing. Considerations like these led USC's Online MBA program to leverage Zoom, a dedicated communications platform, for conferencing in addition to the Canvas LMS for facilitating learning. Zoom lets students see the instructor, as well as their fellow classmates on live video, making it closer to face-to-face interaction than many alternatives. It's also easier to schedule meetings on short notice with the ability to send calendar invites, offering similarity to the spontaneous brainstorming sessions that might happen in a classroom or office.
Why it Matters: The best solution for a given problem isn't always the one that comes integrated with the rest of the software organizations already have. Especially for an online MBA, it's also important to consider technology that has value beyond the classroom, as this will better equip students to succeed in their careers. The second component of this is to think about software that readily integrates with platforms people use in their daily lives anyway. Even if it is just the ability to send a meeting invite over Google Calendar, individual features can make the difference.
The Results: When Technology is Used Effectively
The biggest result of USC's smart use of technology is that students can and do form real connections that lead to face-to-face interaction. For example, many students organize meet-ups in their area, so that those who live away from campus can still participate in the Online MBA community.
The deeper social connections, coupled with classroom learning and group discussions, also create unique opportunities that would not be as easily made without digital engagement. In USC's case, one team of students in the recent cohort is planning to open their own business together.
The Bottom Line: Universities have historically struggled to keep pace with technology adoption. Regardless of whether a program is online, offered on-campus or uses a hybrid approach, though, the best MBA programs will stay ahead of the curve by considering outcomes first and avoiding the temptation to innovate without a clear purpose.
---